Thanks to Cody for the e-mail..
BREAKFAST:
YOLK is only open til 3pm but they open real early and although they have several locations it doesn't look like a quantity over quality situation. I'm sayin this looks good!
The Closest one to the venue is located at…
River North
747 N Wells
Chicago, IL 60654
Phone: 312.787.2277
LUNCH:
HOT DOUG'S has over 2,000 reviews and is at 4 1/2 stars. They must be doing something right. If that wasn't enough, here is a quote from their website 
Memorial Day: You would think that a holiday that signifies the start of summer would be the perfect time to sell lots of hot dogs. Unfortunately, Scotch was invented in 1494. Therefore…Hot Doug's will be closed for Memorial Day. 
3324 North California Avenue
Chicago, IL 60618-5848
(773) 279-9550
DINNER:
KUMA'S CORNER got damn, another Chicago eatery rocking the 4 1/2 stars with over 2500 reviews. The burgers here are no fucking Joke I'm just going to have to post a few pics up. 
2900 West Belmont Avenue
Chicago, IL 60618-5804

(773) 604-8769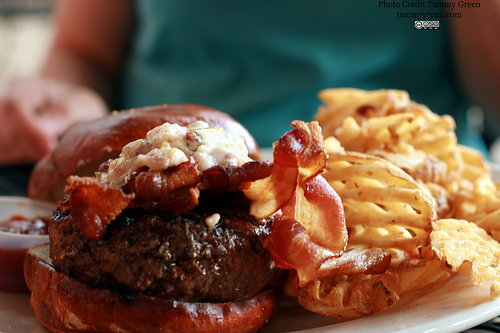 No joke this is some pornographic food shit, damn!
rodriquezjk83 likes this
w0lftits reblogged this from doitdonald and added:

SO CORRECT.

weightlessnight likes this
doitdonald posted this